Our family-owned business is continuously growing and we owe it to our loyal customers who value our hard work, ethics and strong family values.
Thank you for your past, present, and future business!
recommends
Highly recommend them for all your pressure washing needs!
Phophi Mukhathutsheli
2022-09-07
recommends
I was searching for a real forex trader but i found none it's so bad everyone is trying to scam you of your money these days. But i got an honest and sincere person lilian wilson fx trust me guys I'm earning profit. don't fall in hands of those scammers. you can see yourself its real her details below lilian Fx Email: lilianwilson220@gmail.com or WhatsApp: +12485090477
Denise Kinsey Tyriver
2022-08-25
recommends
Very pleased with the job that 256 ProWash did for us at our restaurant. Gutters that I thought would need to be replaced look good again and a patio that spent a season being rained on with lots of oak tree droppings looks amazing. Thankful for Michael's skill and professionalism and will use again!
recommends
Just had 256 ProWash clean our roof, vinyl siding, gutters and some brick at our home. Did an excellent job! Our home looks so fresh and clean now. Michael was very professional. Knowledgeable about what he was doing and answered all our questions. Very reasonably priced and very pleasant to work with. Will definitely have him do any of our cleanings in the future. Highly recommend Michael's work!!
Donna Crawford Keasling
2022-02-11
recommends
Michael is so knowledgeable about soft wash on my steps and chemicals to use on the worst parts of my driveway, sidewalks, and curb. Wonderful fellow, fabulous job.
Connie Winsor Roe
2021-09-26
recommends
Michael is dedicated, dependable and meticulous...he did an awesome job on our home, office and RV. Highly knowledgeable, has ALL the equipment to get the job done RIGHT! We are very happy with the job he did...it all looks new again!
recommends
Michael took care of my home and my business. Prices for both were very reasonable and I am extremely pleased with the results.
Beverly Whatley
2021-03-13
recommends
Great communication and punctual. Michael did an amazing job washing my house and driveway. We will use them again next year. Thanks for your hard work.
recommends
Exceptional service! We didn't realize how much had accumulated on our concrete and our house until after Michael and 256ProWash had finished! Our house looks like new and our concrete drive and walkways practically look like they were just poured! He was polite, timely, respectful and offered meaningful advice and direction. Michael's knowledgeable use of the right treatments for the variety of surfaces he cleans and stains he is removing is remarkable. I highly recommend 256ProWash to anyone who cares about the appearance and longevity of their property.
recommends
256 ProWash did an outstanding job at The Offices at Spenryn this week!! We will definitely be a repeat customer and recommend them to all our friends, family and colleagues!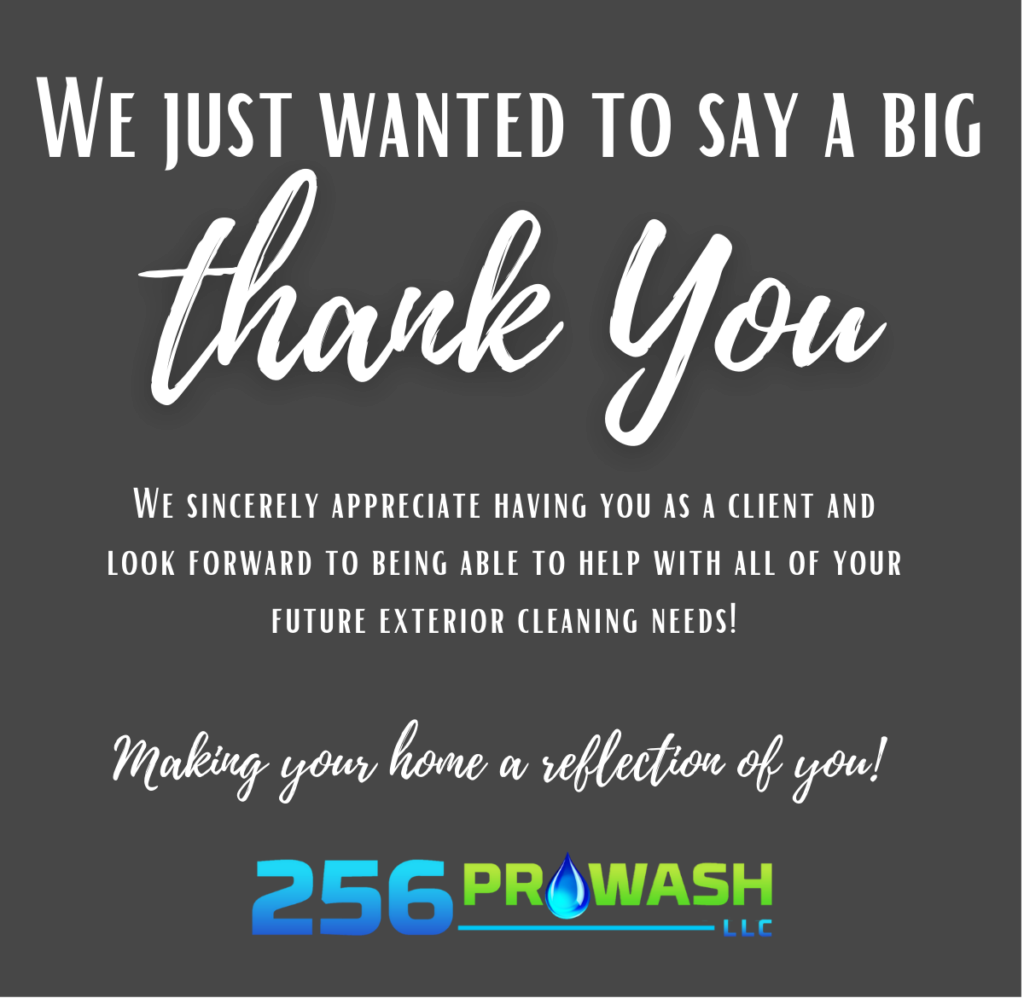 We Sincerely Hope You Are Satisfied With Our Services
And Look Forward To Working With You Again!
CALL US TODAY!
256-361-3955