Our family-owned business is continuously growing and we owe it to our loyal customers who value our hard work, ethics and strong family values.
Thank you for your past, present, and future business!
256PROWASH did a wonderful job. Michael came out on short notice late in the day. Siding at the third floor level looked great for marketing pictures taken the next day. Will definitely continue to use him and recommend him.
I've used other power washing companies before and none we're half as good as this. They pay attention to all the details. Great job all round
256 ProWash is definitely a Pro at what he does! He arrived promptly, was efficient, and his equipment was state-of-the-art. We had spots where we grill and he was able to remove those along with many other spots on areas. We will definitely use 256 ProWash for other services he provides for siding, etc. Thank you Michael for your hard work!!
I have a corner house, which means extra sidewalks, a drive way, a front porch, back breezeway and a large brick enclosed patio. Michael Coley, owner of ProWash, responded quickly to my request for a power wash quote. He appeared to be very professional and personable. His quote came in very reasonable. Better than some, and we had one that was outrageous. We agreed upon a date and estimated time. He did not rush the job and made sure all was completed. Both me and my wife were very pleased with the way our property looked. The sidewalks sparkled and the brick patio looked better than new. We found Mr. Coley to be a responsible individual and one who takes pride in his work.I would recommend 256 ProWash to anyone.
Great job! Our house and barn look amazing! Highly recommend!
Could not have asked for better service. Michael was on time, courteous and professional!
Catelin Natale
2021-07-13
Great timing!!
Mike at 256 ProWash provided 100% customer service and satisfaction. We were amazed! Our house, pergola and all cement work look amazing now. He employs a quality process, has excellent equipment, and is safety oriented. Mike is truly professional, enjoys his work, family oriented, and is also very friendly. A great company and great service provider. We absolutely plan to use them again.
recommends
Michael took care of my home and my business. Prices for both were very reasonable and I am extremely pleased with the results.
Beverly Whatley
2021-03-13
recommends
Great communication and punctual. Michael did an amazing job washing my house and driveway. We will use them again next year. Thanks for your hard work.
recommends
Exceptional service! We didn't realize how much had accumulated on our concrete and our house until after Michael and 256ProWash had finished! Our house looks like new and our concrete drive and walkways practically look like they were just poured! He was polite, timely, respectful and offered meaningful advice and direction. Michael's knowledgeable use of the right treatments for the variety of surfaces he cleans and stains he is removing is remarkable. I highly recommend 256ProWash to anyone who cares about the appearance and longevity of their property.
recommends
256 ProWash did an outstanding job at The Offices at Spenryn this week!! We will definitely be a repeat customer and recommend them to all our friends, family and colleagues!
recommends
Michael was quick and responsive. I called for a fence cleaning estimate. He came got me the estimate within 48 hours. Once we agree he worked me into his schedule and completed the work quickly. I would definitely recommend 256 Prowash to anyone, and will be using him again when I need my gutters cleaned this summer.
recommends
256 prowash was great to work with. we will hire them again.
Felicia Northcutt
2021-02-21
recommends
they did a great job. will hire them again.
recommends
Michael did a good job. Quick response time and great performance.
Scott Northcutt
2021-02-21
recommends
Michael was very quick about getting me an estimate and came to do the work requested within the week. I was very happy with their performance and will hire them again.
recommends
Michael did a great job! Will use him again.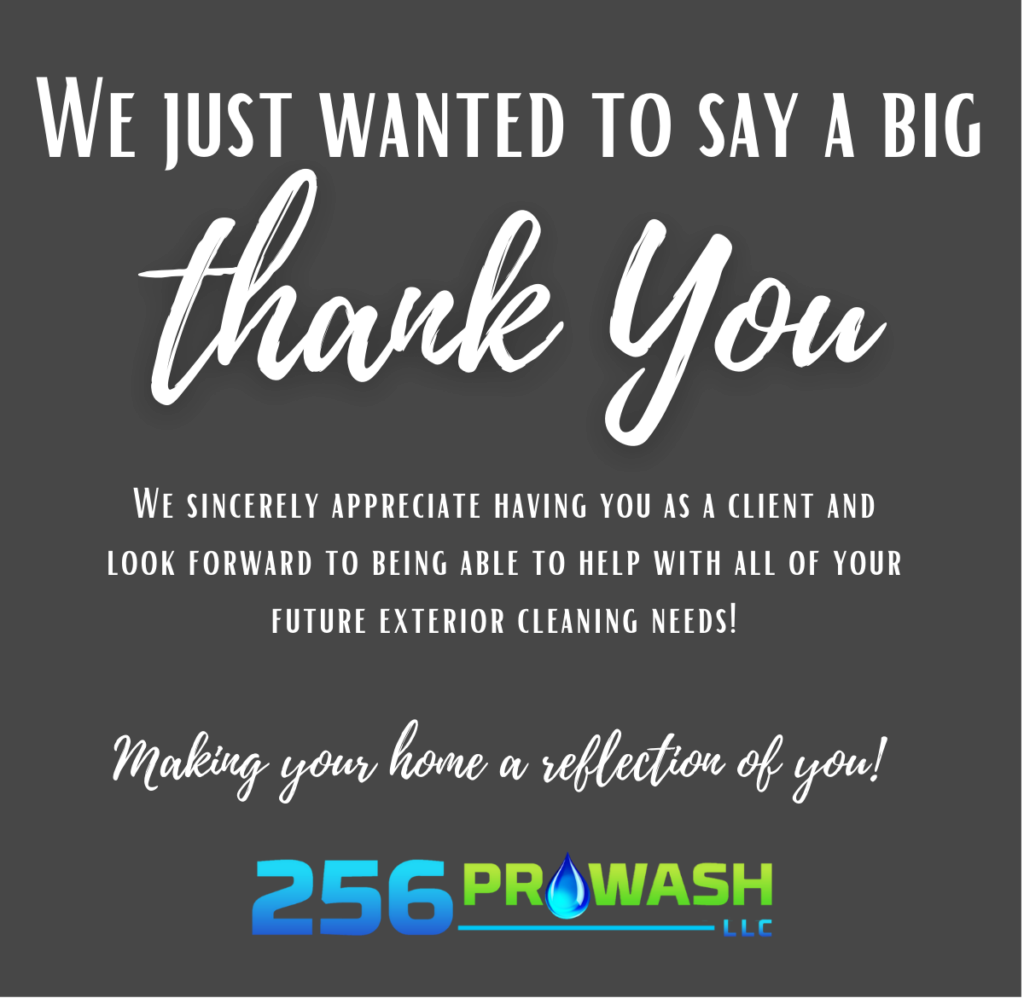 We Sincerely Hope You Are Satisfied With Our Services
And Look Forward To Working With You Again!
CALL US TODAY!
256-361-3955